Description
The "TerraCare" central tire inflation system:
Less fuel consumption due to less slip;
Higher area coverage;
Protection of the technology;
Sustainable avoidance of irreparable soil compaction;
Higher yield expectations in tramlines and headlands;
Protection of the important soil fauna.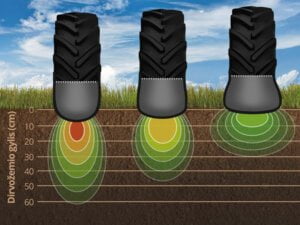 Customised quality. Only components made of stainless steel or aluminium are used. The wear-free rotary joints are suitable for up to 2500 rpm at 10 bar and thus enable control operations while driving at up to 70 km/h. An extremely flat version (55 mm) is also available as an option. The connection to the tyres is established with customised stainless-steel tubes.
Everything quickly under control. Ball valves with large continuous cross-sections guarantee fast control times (no filters or diaphragm valves). The plug-in connections enable the external pipes to be quickly dismantled if necessary. TERRACARE offers tailored solutions for tractors and attached equipment. The system is conveniently controlled from the cab at the touch of a button. Safety devices ensure that the tyre pressure is always correctly adjusted to the speed. The pressure can be adjusted while driving and at any speed (depending on the tyre load). Optionally, only the trailer or rear tractor wheels can be preferentially inflated by presetting a time delay.
Safety. A safety valve in each control circuit as well as redundant pressure monitoring in the rear axle ensure safe working and driving. An alarm would immediately inform you of a line break. If the sensor fails, you can continue working in emergency mode.
Control via ISOBUS terminal. The central tyre inflation system can also be controlled via a tractor's ISOBUS-compatible terminal. Operation and functionality are shown on the TERRACARE display. The functionality also applies to equipment being towed (slurry tankers, forage trailers, etc.). Subsequent conversion to the tractor terminal is also possible.